Lake Park Little League MKE!
2017 Registration Open: January 16 – March 16
Lake Park Little League MKE is a fun, relaxed, social league for players and families! The league is designed to work with your family needs and schedule.  Enjoy game day tailgates, team picnics and special events like Opening Day Celebration, Downer Cycle Race, 4th of July Parade, Little League Brewer Night and End of Year Celebration.  Meet neighbors and make new friends all in your neighborhood park! Lake Park.
Baseball. It's cooler by the lake.
Lake Park Little League MKE is a recreational baseball league for boys and girls ages 6-12. Games and practices are usually held week nights between 5 pm and 8 pm for about 60-90 minutes at Lake Park or Riverside Park.  Optional clinics take place on Saturdays, between 9 am and 12 pm and last about 60-90 minutes.
In the Minors division (ages 6-8), a machine pitches the ball to the batter (machine-pitch).  In the AAA division (ages 9-10) and Majors division (ages 11-12), a player pitches the ball to the batter (kid-pitch).
Players live in or attend a school in the Neighborhood Area between State St. and Edgewood Ave., Lake Drive and Holton St.  Last season, players represented 22 different schools around Milwaukee!!
Registration Fees
Minors (ages 6-8) $175, AAA (ages 9-10) $200, Majors (ages 11-12) $200
Early Bird, Family, Volunteer Discounts
Register by Feb. 14 (Valentine's Day!), save $25
Save $25 per 2nd, 3rd child, 4th child free
Refer a friend and receive $25 credit for 2018 season
Coaches and Team FUN Coordinators receive a $50 credit toward the 2018 season.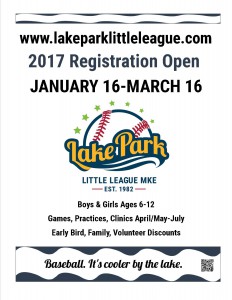 ---
---