By Cynthia Sommer
The pedestrian activity this summer on Downer Avenue has increased significantly with the opening of the Stone Creek Coffee Café. The vacant former Associated Bank branch site at the intersection of Downer Avenue and East Park Place is the site of this Milwaukee-based coffee company's newest coffee shop, café and kitchen.
The former parking lot has become an outdoor patio that flows into a three season space and the indoor service and seating area with its own kitchen. A walk-up service window provides customers an option on their way to work or when just walking the neighborhood to quickly grab a beverage or food item. An expanded menu, including hot breakfast meals and sandwiches add to the expected Stone Creek coffee, expresso, beverages and their own line of baked good.
The food choices include waffles, egg sandwiches, housemade yogurt bowls, a la carte items and add-ons. Menus items range from $6 to $8.50. There are several unique and interesting food combinations. A waffle choice might include Liege Style waffles with coffee butter and bacon while an egg sandwich on Brioche buns might include avocado and spicy egg. A Rose Water homemade yogurt bowl comes with lemon curd and pistachio nut. Customers can also order from the a la carte menu of green salads, seasonal fruits, bacon and toast and spreads. Beer and wine is available with daily happy hours from 4-6 pm.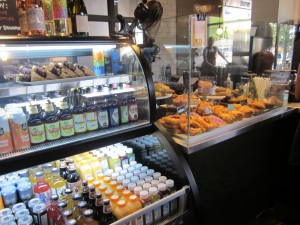 The food items are prepared on site in an efficient semiopen kitchen. The interior seating area has tables that are computer friendly, larger tables for groups, and warm cozy lounges to just relax. A large community room can be reserved for groups or meetings. The 50 seat patio is surrounded by pleasant green plantings and has some shade umbrellas. The cafe has been a popular gathering place all summer. Designated To-Go parking along the outdoor patio area on E. Park Place provides priority parking for customers making quick stops for coffee and food. The café hours are 5:30 am to 9 pm daily and the kitchen is open from 6 am to 4 pm.
So if you want to meet a friend, have a group meeting, do your computer work, or just hang out and people watch, check out the Stone Creek Café at 2650 N. Downer Avenue. It is exciting to see all the new life that has come to Downer in
the last year.