Divine Divino: Fine Italian Cooking in Our Own Backyard
By Margaret James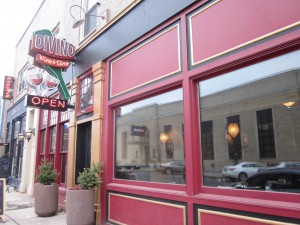 Have you ever had that deep craving in your belly for hefty Italian food, but not wanted to pay the usually equally hefty bill? Well, you're in luck. With an updated dining room and bar at the former Palermo Villa restaurant (2315 N Murray Ave.), Divino blends delicious food and comfortable hospitality into one great package, and all within a comfortable budget.
When you walk into Divino, you feel like you have entered a family restaurant back in Italy; the welcome is warm, and even if there's a wait, you won't be waiting awkwardly by the door. Sidle up to the bar and enjoy one of the many selections of wine (half-off bottles on Tuesdays!) or beer (half-off on Wednesdays!) while you wait. Feeling ravenous? Divino has plenty of tasty antipasti, salads, soups and other assorted appetizers for you to choose from. Try the Cipolla ciabatta, a delightful diversion from the classic bruschetta, or the octopus, grilled to perfection on a bed of fresh greens.
For your main meal, you have yet more options. Divino's pasta dishes are all freshly made and carry a rich flavor that is hard to resist. The Vongole pasta has the perfect balance of salty clams and olives and lemon tang. It is a light pasta, but still wonderfully filling. If you love mushrooms, the Funghi is the pasta for you! It has a velvety sauce that can sooth any worries. The Paglia Fieno and Scampi aren't from your mother's kitchen (unless your mother shares the near-perfect Divino recipes). All pastas are served with bread and a small side salad. For those with a smaller appetite, all pasta dishes are also offered in mezza, or half, portions. If you aren't craving pasta, you won't need to look far for an alternative. The Divino menu boasts five different sandwiches, eight traditional entrees, and eight pizzas. The pizzas come in three sizes, 8", 12", and 16", so order two for the table, or dare to be selfish and save each slice for yourself.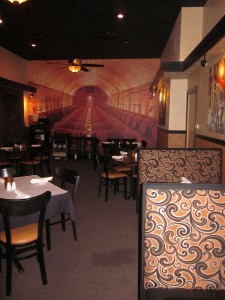 Don't forget the dessert! No Italian meal is complete without a little sugar to end the culinary journey. Be it the cannoli (small, but rich), or the tiramisu (presented beautifully and delicious), you're sure to end your evening with a sweet taste in your mouth and a sweet memory in your mind.
Unlike many Italian restaurants of the same quality, what you get far exceeds what you pay. Starters range from $5-$9, full portion pastas $12-$16, 16" pizzas only $13-$21, and entrees $14-$24. But, Murray Hill, if you're not feeling like
venturing out into the world for your Italian food, don't worry, Divino offers online ordering and delivery. At divinomke.com, you can place an order and enjoy your delivered comfort food from the comfort of your couch. If you do feel like venturing out and into the relaxed atmosphere of Divino, their hours are 4pm until midnight, Monday through Thursday, and noon until 1am Fridays, Saturdays and Sundays.Fridays and weekends offer lunches, and if you're the Trivia playing sort, why not try your hand at the Divino Trivia night, Mondays at 8pm? At Divino you can enjoy great food and drinks with friends and family without breaking the bank.