By Cynthia Sommer
Have you ever walked past something many times and not really seen it until someone pointed it out? That was my experience in the neighborhood recently when walking through the inner courtyard on UW-Milwaukee's (UWM) campus between the Fine Arts building and Mitchell Hall. A plaque on a courtyard terrace wall designates the area as the Edward Steichen Courtyard. It made me wonder, who was this man and why was he so honored?
Edward Steichen was a pioneer in the development of photography as a fine art as seen in his classic early photo of the Flatiron building in New York City. Steichen is also recognized as a painter, a famous commercial (e.g. Churchill, Charlie Chaplin, Greta Garbo portraits), fashion (Vogue & Vanity Fair clothing designs), World War I (Army reconnaissance) and WW II (Navy; documentary award) photographer, a national and international museum curator (Museum of Modern Art) and a Presidential Medal of Freedom honoree. But what was his connection to Milwaukee?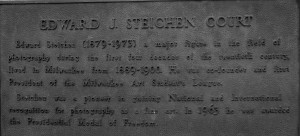 Edward Steichen (1879-1973) moved to Milwaukee in 1889 with his family at the age of 10. Due to the poor health of his father, Edward left school at the age of 15 (1894) to begin a 4 year lithography apprenticeship at the American Fine Arts Company of Milwaukee. After hours, Edward would further develop his natural talent for drawing and teach himself to paint. In 1895, his purchase of a second-hand Kodak box camera at a nearby store instigated his life-long love of photography. Photography also launched him as an entrepreneur. He would stroll through the city parks on Sundays and holidays photographing laborers at their union picnics or members of Milwaukee singing societies in concerts. It is also recorded that some of his paintings were shown in the former Gimbels department store window displays, and he later developed his own studio.
In these formative years in Milwaukee, Steichen and his artist friends rented a small room in an office building and began the Milwaukee Art Students' League in 1895 with Steichen as its first president. This farsighted group, with a stated mission to "maintain a regular, practical School of art…for a thorough art education in the lowest rates possible", developed into the Wisconsin School of
Art and years later was the genesis for the School of Fine Arts at UW-Milwaukee. Steichen moved to New York City in 1900 and became internationally famous by the age of 25.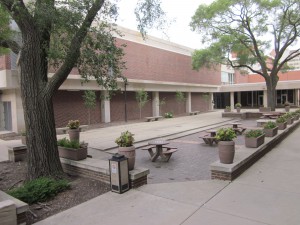 His career during the first four decades of the 20th century was culminated in a photographic exhibit that he curated in 1955 entitled the "Family of Man". This ambitious, international collection of 500 photos from 68 countries depicted the common bonds of birth, life, labor, love and death that bind people and cultures throughout the world. Carl Sandburg, Steichen's brother-in-law, wrote the famous poetic commentary for the exhibit—"There is only one man in the world and his name is All Men. There is only one woman in the world and her name is All Women. There is only one child in the world and the child's name is All Children." This traveling exhibit was viewed by 9 million people on six continents.
Behind a plaque is a story that is worthwhile to learn and an inspiration for all ages and peoples.