We're one of Metro Milwaukee's best eight neighborhoods!  Read the M Magazine article.
We're home to John "McGivern's East Side"!  Watch the episode.
And we have so much more to offer…Check out our new brochure!
Murray Hill h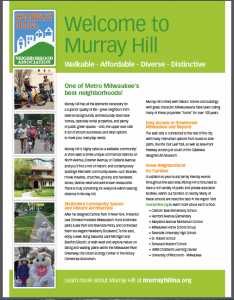 as all the elements necessary for a superior quality of life – great neighbors from all diverse back grounds, architecturally distinctive homes and businesses, along with desirable rental apartments and duplexes.
Murray Hill is highly rated as a walkable community full of vibrant businesses with a comfortable variety of retail options to meet ones everyday needs. There are restaurants that range from ethnic and gourmet to fast food and everything in between.
There are multiple transit options in our neighborhood; the east side of Milwaukee is connected to the rest of Wisconsin with many interurban options from buses to bike paths, like the Oak Leaf Trail for biking and walking, as well as lake front freeway access just south of the Calatrava designed Art Museum.
After he designed Central Park in New York, Frederick Law Olmsted modeled our most distinctive parks (Lake Park and Riverside Park), and connected them via wide and elegant Newberry Boulevard, and to our east we have beautiful Lake Michigan and Bradford Beach.
University of Wisconsin – Milwaukee an urban university with all of the extras it offers, is at the top of the list of the quality schools and day care facilities located within the boundaries of Murray Hill. And we have the Urban Ecology Center to help appreciate nature in our urban environment located in Riverside Park along the Milwaukee River Corridor.
We have nearby Columbia St-Mary's Hospital complex of medical facilities and professional buildings for a health resource along with Independent Living amenities, Assisted Living residences, Health and Rehabilitation Centers.
Milwaukee Police Officers on bike, foot and car patrol keep our neighborhood safe, along with Murray Hill's award winning Report It/Record program of community involvement keep our city officials up-to-date with the needs of the neighborhood.
Along with the City of Milwaukee recycling programs, our own and the university's neighborhood clean-up efforts keep the quality of life at a high level, and of course a very active neighborhood association with the largest membership of any neighborhood association in the city, that includes a regular newsletter and our web site to keep neighbors informed and involved. There is a coordinated effort among all east side neighborhood associations to address mutual concerns to all of the residents through the Milwaukee Eastside Neighborhood Associations (or MENA). Murray Hill is a great place to live, work, play and study and our Murray Hill Neighborhood Association is a neighborly way to get involved.