A Bit of Local History at our September Meeting
Neighbors,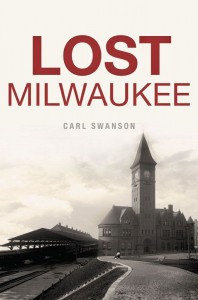 We are very excited to invite you to next week's Murray Hill Neighborhood Association meeting, where we will be joined by special guest speaker Carl Swanson.
The meeting will be held on Tuesday, September 25 at 7 PM at the Urban Ecology Center (1500 E Park Place).  Carl will join us for a fascinating glimpse into the city's past. Carl explores and writes about his adopted hometown on his fascinating blog Milwaukee Notebook and in his recent book, "Lost Milwaukee," published by the History Press. Carl lives in Riverwest with his wife, three children, and two cats.
Please note that while Carl won't be bringing books to sell, he would still be happy to sign any copies brought to the presentation on Tuesday night.
Books can be purchased at Boswell Book Co. on Downer Avenue or at here at Amazon.com.  Also, a sample chapter featuring the ruins in Gordon Park is available here.
We will also be joined by MPD District 1 Community Liaison Officer Tom Kline for a monthly update.  We are looking forward to a great meeting – see you Tuesday!
---
---