15th Annual Local Farmer Open House
Saturday, March 11, 2017 •

11:00am to 3pm


At the Urban Ecology Center in Riverside Park – Free!
There's nothing as delicious and healthy as locally grown, authentic farm fresh food! But where to find it, and what to choose?
The 15th annual Local Farmer Open House at the Urban Ecology Center features CSA farmers and enthusiasts ready to field your questions.
This free event is your once-a-year opportunity to talk with local farmers, hear about their growing practices, and learn about their Community Supported Agriculture (CSA) subscription options.
Now is a good time to consider becoming part of Community Supported Agriculture — a link to family farms and sustainable farming – and a subscription to fresh, nutritious locally grown food.  It's a small concrete action you can take to make a difference.
New to CSAs? what to do with an abundance of fresh produce? Attend the free workshops and learn how to make the most of the harvest:
CSA Basics (

11:30 am and 1:00 pm

) will explain how Community Supported Agricultures works (including Workplace CSAs).
Cooking from your CSA Box (

12 pm and 12:45 pm

) will share ideas on seasonal cooking, preserving food and more.
Tell your story at the  Milwaukee Public Museum Farm Fresh Pop-up Museum. Have a photo of your great-grandfather's farm? Display it! Your weekly newsletter from your CSA? Share it! A map that show your house was once part of a large farm? Tell us the story!
Hungry? Lunch will be available for purchase from Milwaukee Localicious
Want to invite others to attend the Local Farmer Open House and stay informed of the latest updates? Join the event page on Facebook 
https://www.facebook.com/events/1702149886768952/
Learn more about CSA: http://urbanecologycenter.org/csa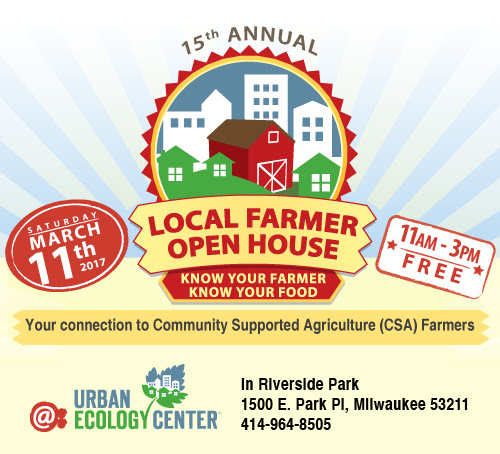 ---
---